您在這裡
中和店-預約上攀體驗
7/27-8/1 中和店預約入場/ Zhonghe Branch Session Reservations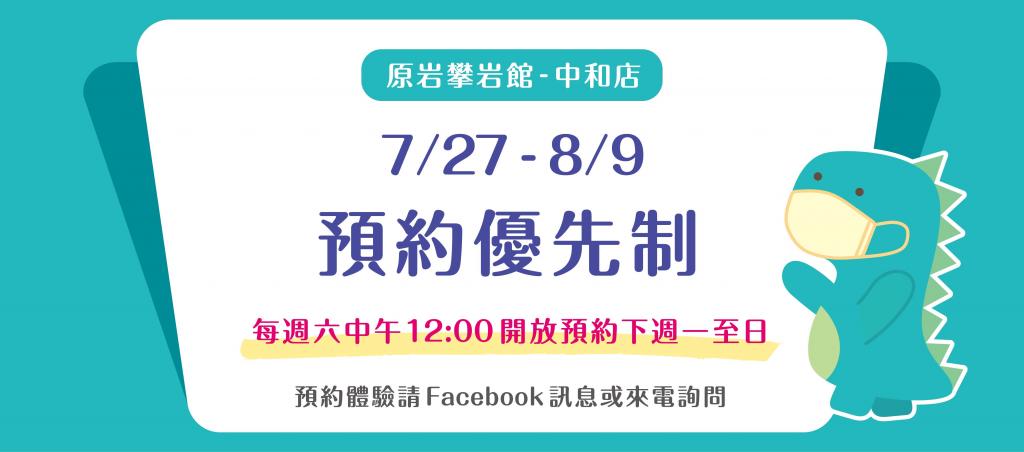 * 預約須事先匯款,確認匯款後才算預約成功 *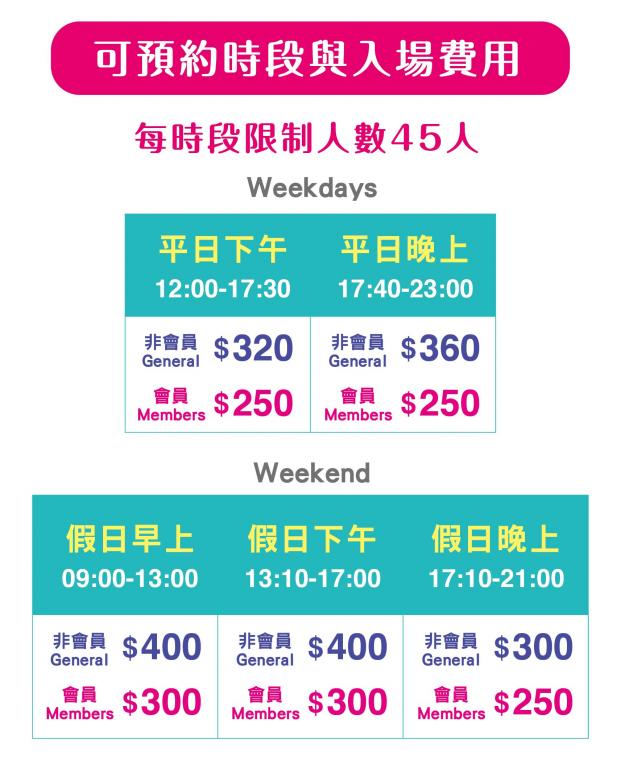 * 疫情期間,建議攜帶個人裝備。
* 入場費用不含裝備租用費。(僅出租吊帶、岩鞋,未自備襪子不得租用岩鞋)
* We recommend bringing your own gear during this time.
*Entrance fee does not include rentals. (Rentals include climbing shoes and harness only. Shoe rentals will only be permitted if customers bring their own socks.)
【一般入場 / Regular Entry 】
.預約表單每週六中午12:00上線,開放預約下週一到日。
.預約未額滿可開放現場現金入場。若要現場入場,建議看此表單顯示人數。
.入場不攀爬者,仍須付該時段入場費用。
.The booking form will be online every Saturday at 12:00PM. Time slots will be available for booking for the following Monday through Sunday.
.If a time slot isn't full yet, we will open up on-site admission. We recommend calling us or contacting us on Facebook before arriving to check on current people count.
.Non-climbing customers will still need to pay session admission fee.
【會員 / Members】
.年票/半年票/月票:暫不開放使用,但有提供會員優惠價。
.套票會員:可選擇使用套票或會員優惠價。一次票只能使用一個時段,可改期、不能取消。
.暫停開放加入會員。
.Annual/6 months/monthly pass: will continue to be inactive, but we will offer a member discount pass for entry.
.Package pass: choose between using package pass or member discount pass for entry. One pass can only be used for one time slot. Pass can be re-scheduled, but cannot be cancelled.
.New memberships will currently be unavailable.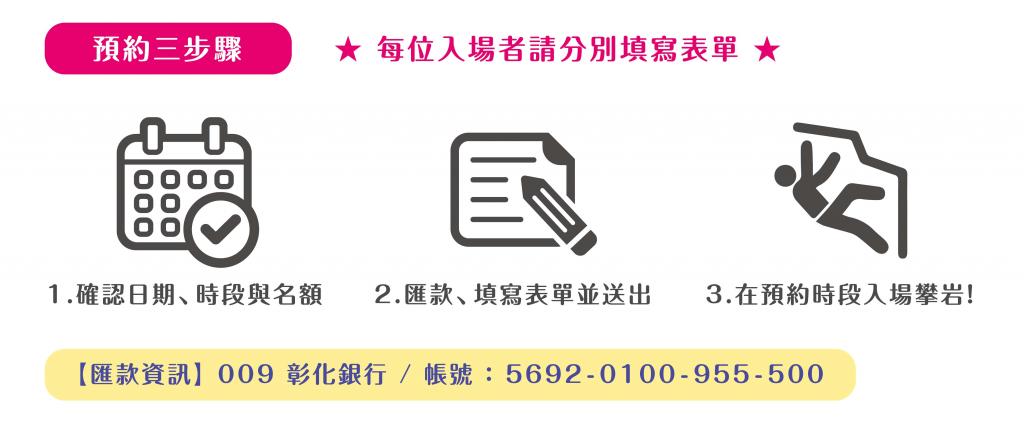 【預約說明/Booking Description】
1.於此頁面最下方選擇日期與時段,填寫資料並送出
2.請匯款後再填寫預約表單並送出,可多人合併匯款,但須分開填寫表單。
 匯款完成後,預約才成立。不接受當天現金支付。
1.Select the date and time slot at the bottom of this page, fill in your information and hit send.
2.Please fill in the bookings form and send it after payment transfer is complete. Multiple people can combine payment transfer, but the form must be filled in separately. After transfer is completed, the booking will be established. Cash payment on the same day will not be accepted.
【匯款資訊/Routing information】
 戶名/Account Name:原岩運動顧問有限公司
 銀行/Bank:009 彰化銀行楊梅分行 (Chang Hwa Bank Yangmei Branch)
 帳號/Acc:5692-0100-955-500
【預約規則/Booking Regulations】
1. 預約後,最遲可取消24小時後的預約。24小時內的預約恕無法取消並退費。(若要將名額換給其他人,須先告知轉換對象的姓名與電話,並請對方入場時告知櫃檯以確認身份)
2. 預約後若要取消,請私訊原岩Facebook粉絲專頁:m.me/TupClimbingZhonghe
3. 取消預約達2次者,將不得於7/27-8/1期間再次預約。
4. 不得以任何原因要求事先入場、延遲離場(包含找人、上廁所、暖身/收操等)。
1. Cancellations must be made 24 hours before booking time, at the latest. Reservations within 24 hours cannot be cancelled or refunded. (If you would like to transfer your ticket to another person, please inform us of their name and phone number so that we can confirm their identity upon their arrival.)
2. If you would like to cancel a booking, please private message our T-Up Facebook page: m.me/TupClimbingZhonghe
3. If you cancel a booking two times, you will not be able to make another booking during 7/27-8/1.
4. We will not allow early entrance or late departure for any reason. (Including looking for someone, bathroom breaks, warm up/cool down, etc.)